Autumn 2019 Seed Product Highlights
While the sunny days of summer may be drawing to an end, that doesn't mean that you can't still find ways to garden and plant. Unfortunately, it just may not be as easy to do it outside, anymore. Several of the products we carry offer creative ways to encourage planting. Whether that planting gets done indoors or outdoors is up to you. Have a look at some of the customisable seed products that we're highlighting for the upcoming chilly season.
The Wonderful WonderBean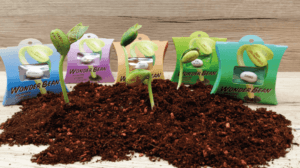 A custom engraved bean that grows into a branded plant…yup, you heard that correctly! Our very innovative Wonder Bean is laser etched with a custom message, then can be planted in soil to sprout into a beanstalk-like plant! Ideal for promoting  home and garden brands and serving as giveaways at trade show stands, our Wonder Beans are versatile and unique.
Packaging is available in 3 sizes to suit your marketing needs and audience. Each packet has an individual bean that can be etched with a logo. We can also supply Wonder Beans with no packaging.
Custom Wonder Beans can also be combined with the Eco Cube – our 100% compostable Alder Wood plant box. The wooden box can be etched with a bigger brand message and the extra packaging offers more branding opportunities for your business. Also, it is possible to add an individualised small card to the package.
Seed Packets
Our seed packets are an affordable promotion that packs a punch! Available in a variety of shapes and sizes, the packets can be used in creative ways – serving as business cards, direct mail pieces, or even hung around the rim of bottles and jars. These seed packets are foil sealed, which protects the seeds from any moisture and gives them a long shelf life. When ordered wholesale, they can be used for long running promotional campaigns. It also means that if recipients don't use the seed packs straight away, they will still be usable long after they received them! The packets can be filled with a variety of herb, flower, or wildflower seeds.
Seed Packet Bookmarks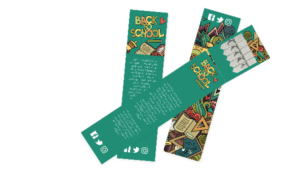 The approaching autumn season means that it's not much longer until the kids will be heading back to school. Our Seedstick bookmarks are not only great back to school promotions for brands centered on community, but fun for kids to plant, and can be a great learning experience.
In the current state of the environment, it's more important than ever that the next generation is aware of sustainability practices. Our Seedstick Bookmarks are not only a brilliant way to subtly encourage reading, but a great tool to teach kids about the importance of planting and taking care of the Earth. The Seedstick packets can eventually be ripped off and planted.
For questions, please email hello@buddyburst.com.
https://buddyburst.com/wp-content/uploads/2019/08/Copy-of-seeds.png
200
600
Jamie Gray
https://buddyburst.com/wp-content/uploads/2018/03/logo-reg-300x200.png
Jamie Gray
2019-08-20 04:59:40
2019-08-20 20:49:37
Autumn 2019 Seed Product Highlights